Why Won't Dave Ramsey Go All-In Against Multi-Level Marketing?
Who is Dave Ramsey?
America's trusted voice on money and business, Dave Ramsey is a personal money-management expert and extremely popular national radio personality. His seven best-selling books—Financial Peace, More Than Enough, The Total Money Makeover, EntreLeadership, Dave Ramsey's Complete Guide to Money, The Legacy Journey and Smart Money Smart Kids—have sold more than 11 million copies combined. – DaveRamsey.com
I have always seen Dave Ramsey as a champion of fiscal responsibility. I never followed Dave  particularly closely, but I know of people that used his advice to get out of debt and those people are very enthusiastic about Dave's overall message and the impact the advice has had on the,. This is why I was surprised when I watched some clips on Dave Ramsey regarding Multi Level Marketing.
Dave's Inconsistent Messages Regarding MLMs
In Dave's Rant, he acknowledges the cult-like atmosphere that is present in the MLM Industry. But at the same time there are pieces of his rant that legitimize the industry.
I've got several friends that are doing really cool stuff. The BeachBody team is doing some real cool stuff, I'll give them an endorsement right now, but there's some freaks in that thing too.
Let's take a quick look at Beachbody. The below analysis is based on their income disclosure statement.
Information based on Coaches enrolled for the entire period. 42.91% of all ranks received a bonus or commission check from Team Beachbody
This means that 57% of all coaches earned nothing. This does not account for total cost of shakes, etc. There is a requirement that active coaches make purchases every month. What this means, is that (significantly) less than 43% of coaches earned a profit.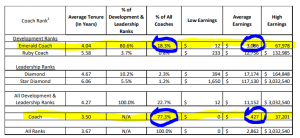 Per their own numbers, 77.3% of coaches earned an average of $427. 18.3% earned an average of $3,086. Doing some quick math, we learn that 95.6 % of coaches earned less than $1000 each annually.
It is estimated that the average coach spends over $130 a month on Beachbody Products and fees.  By these numbers, less than 5% of Beachbody coaches make a profit.
This is the example Ramsey has as a company that is "doing some real cool stuff".
I have several friends that make a million $ a year.
To be fair, Dave goes on to explain that his friends are the exception, and that for every person that is successful, thousands of others fail.
My criticism is that Ramsey is riding along the fence. It would be impactful if he were to come out 100% against Multi Level marketing.
One 2018 survey revealed that 31% of participants use their credit card to join their MLM, and 9.1% took out a personal loan.  Some borrowed from family.  Dave's relative lack of conviction regarding the dangers of MLMs is inconsistent with his advice on other matters relating to debt.
The few that make the large profits are preying on those at the bottom of the pyramid organization.
In one video, a caller stated that his wife was going into debt, and Dave seemed legitimately surprised that she wasn't able to sell or recruit.  Nearly all participants lose money in MLMs. The fact that this man's wife was losing money should not come as a shock.
I don't understand…it's not making money, she's spending money?
Recruiting Vs. Selling

Dave hits on the key issue multiple times in his responses. MLMs aren't about selling product.  In many cases the vast majority of products are bought by the members themselves.
A distinguishing factor between illegal Pyramid schemes and Multi Level Marketing is the focus.  Pyramid schemes focus on recruitment vs. the selling of product.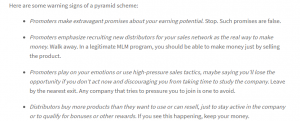 Ramsey does make a lot of great points about MLMs, but never quite goes all in, and calls them what they are. In my opinion, no one should be investing their effort or money in MLMs. It's a bad financial decision for over 95% of participants. Those that are making huge profits are doing so at the expense of the people losing money below them.
About MLM Investigation
I decided to start MLM Investigation to help shine a critical light on the industry. There are many others that are doing a fantastic job telling their stories and speaking out against MLMs. I will feature others' work as well and point readers to their content.
I plan to use this space to further the cause and to educate people about the true nature and the true numbers behind The MLM Industry.
I am collecting updated Income disclosures, commission structures, and recruiting materials, and will have these available on the site.
I plan to create single page executive summaries of all major MLMs to serve as a guide to share with those considering joining an MLM organization.
Follow and Support MLM Investigation
Twitter – https://twitter.com/InvestigatorMlm
Facebook – https://www.facebook.com/InvestigatorMLM
email – anonymous@mlminvestigator.com
Support MLM Investigation – Make a one time contribution